Bird's Head Haggadah,  1290, Southern Germany
This week's parsha is "VaYeira". The parsha is comprised of beautiful narratives. It includes the story of the 3 angels who visit Abraham and Sarah, the destruction of Sodom and Gemorra, the birth of Isaac, and the binding of Isaac on the sacrificial altar.
We are told that God tested Abraham 10 times. The final trial was Abraham being told to sacrifice Isaac.
"Take now your son, your favourite son, Isaac, whom you love, and go to the land of Moriah, and offer him there as a burnt offering on one of the mountains that I will point out to you." (Genesis 22: 2)
Abraham followed God's words. This narrative and its conclusion has disturbed, inspired, or puzzled Jews since it was first read in the Torah. How, we ask, can a father be told to slay his son on an altar? And, even more so, how can a loving father, the  patriarch of the  Jews, have agreed to this murderous sacrifice?
 Beit Alpha Synagogue Mosaic 5th C. CE
We do not see Abraham as a meek character. God chose him to be a leader because he wasn't afraid to strike out on his own or to defy adversity. We saw Abraham argue and then bargain with God about Sodom and Gomorrah, so why didn't he challenge God this time? He and Sarah discussed strategy for entering the land of a foreign king and talked about not having had children, so why didn't Abraham discuss this with Sarah, his life partner? He could have refused God and defended his position or he could have tried to run away like Jonah did, too afraid to stand up to God and unwilling to slay his son. But when it came to the situation of "akeidat Yitzchak" (the binding of Isaac) Abraham chose to quietly obey.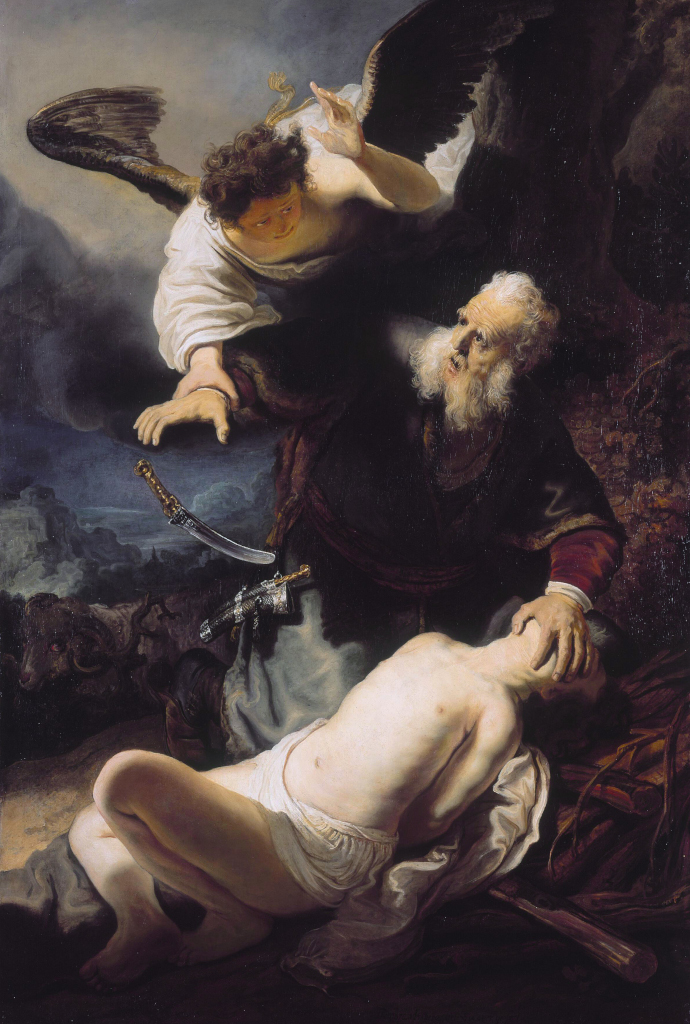 Rembrandt, 1636
We are told that Abraham passed God's test. But what was God's test? Is it that if we do whatever God tells us to do without question, it will all work out? I have a different theory. I think the test was to see whether or not Abraham would be scared off by God's instructions.
Would Abraham continue to engage with God, even when given such an unbelievable task? Abraham could have run away from God and tried to hide as the prophet Jonah did, saying, "No more. I will no longer follow you."  It could be that any reaction that acknowledged God – whether it was arguing, bargaining, discussing or  accepting would have been good enough to pass the test of God's search for the patriarch of a new nation who would not run away from adversity and confrontation. Rather than enter discussions, Abraham decided to follow with blind faith.
Abraham and Isaac, Rembrandt, 1645
Abraham proved his faith and passed the test but it was at a very high cost. It ends with Isaac alive but relationships are  broken. Abraham and Isaac never spoke to each other again. Abraham and Sarah never saw each other again. She died, and midrash (apocryphal story) relates that she died when she heard of Abraham's intention to sacrifice their son.  Abraham and God never spoke again either.
The story is tragic. The lack of communication we saw here is a pattern that is repeated throughout the book of Genesis. Other than the lesson of faith in God we can take away another lesson- the importance of communication and honesty within a family facing all sorts of challenges.
As always there is much to think about and learn through our Torah and our sages.
Shabbat Shalom, Laya