Shemot by Laya Crust
"Shemot", meaning "Names", is the title of the second book of the Five Books of Moses. The book begins with the names of the patriarch Jacob and his sons, and tells how Jacob went down to Egypt with an entourage of 70 people. It says, "And the children of Jacob were fruitful and increased abundantly and multiplied and grew very very mighty, and the land was filled with them." (Shemot/ Exodus 1:7)
The Israelites became slaves to the Egyptians. Neither slaves, taskmasters, nor nobility were named in the narrative. The first names we read are those of two heroic midwives, Shifra and Pua, who had the courage to ignore the edict to drown every Israelite boy at birth. The next name we read is that of Moses- not when he was born but after he was rescued by Pharaoh's (nameless) daughter, then taken by his own (nameless) sister to be nursed and raised for three years by Moses' own (nameless) mother.
We read of Moses' entanglement with a (nameless) Egyptian taskmaster and three (nameless) Israelite slaves. The next person who is named is Re'uel (Jethro), the Midianite priest who kindly took Moses in.
There is a pattern here. The people who were named were those who stood up against the norm of apathy and acceptance. The midwives risked their own lives because they didn't want to kill innocent baby boys. The adopted boy Moses grew up to rail against the injustice he witnessed. Jethro the priest took in a needy stranger from a rival country.
photograph by Malcolm Peterson, 2003
But names are important. When Moses met God at the burning bush surprisingly Moses asked for God's name. Moses knew that the Israelite slaves needed a name for God in order to believe. He demanded a name from a powerful, unknown, force. God complied and furnished Moses with a name – "אהיה אשר אהיה", "I Will Ever Be What I Will Be".
Names are a key to identity and self-determination. The Israelite slaves were nameless. Black slaves were stripped of their birth names and given new monikers. Victims of the Nazi regime were numbered in order to add one more level to their dehumanization. Victims of famine and genocide; and victims of large natural disasters like tsunamis, mudslides, and earthquakes, are unnamed. Missing Indigenous women needed their names shared in order to be noticed, and for their disappearances to be investigated.
When we see a face or hear a name we are more capable of empathizing with a person or an unfolding tragedy. That is why, when a memorial is set up for fallen soldiers or victims of the Shoah (Holocaust), the invisible individuals can then be remembered, and why the Holocaust Memorial in Jerusalem is called Yad V'Shem ("A Monument and a Name").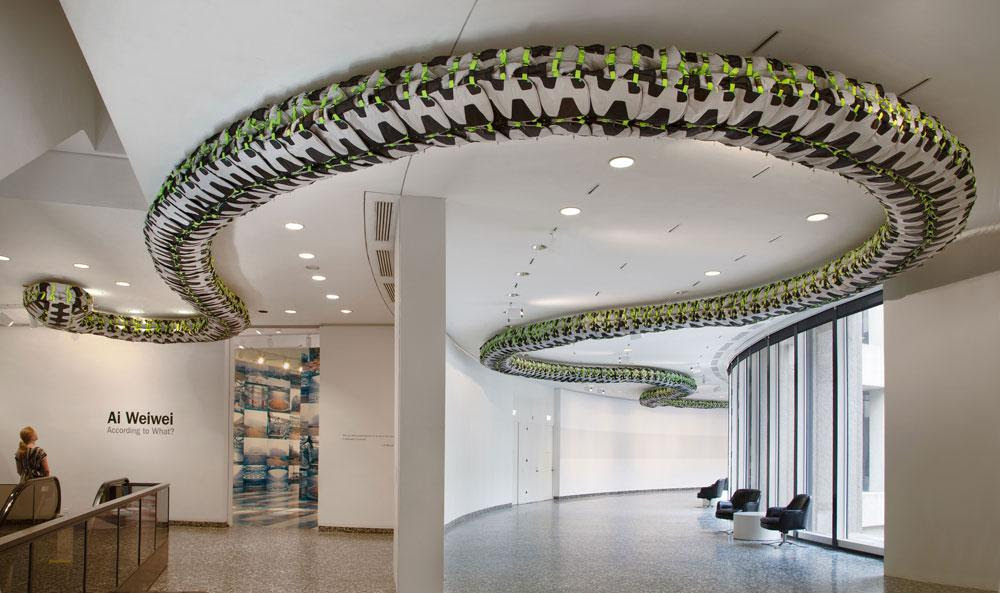 Snake made out of children's backpacks, Ai Wei Wei, Art Gallery of Ontario
Ai Wei Wei, the Chinese dissident artist, took another approach in one of his installations. In 2008, thousands of school children were killed by an earthquake in Sichuan, China, in shoddily constructed government schools. Wei Wei has produced a list of all the victims of the earthquake on his blog. He also created a number of art pieces made from thousands of children's backpacks to memorialize their lives.
The thousands of victims have been given identities.
Referring to the narrative from the bible, it may seem that calling this story "Shemot" or "Names" is ironic, but on second thought it is a lesson. The people who were named were doers and helpers. They were people who stepped beyond normal expectations to change a condition and make it better.
When we see people in need it may help us to find out their names. That may make it easier for us to see them as individuals and allow us to reach out more quickly.
Have a good week, Laya