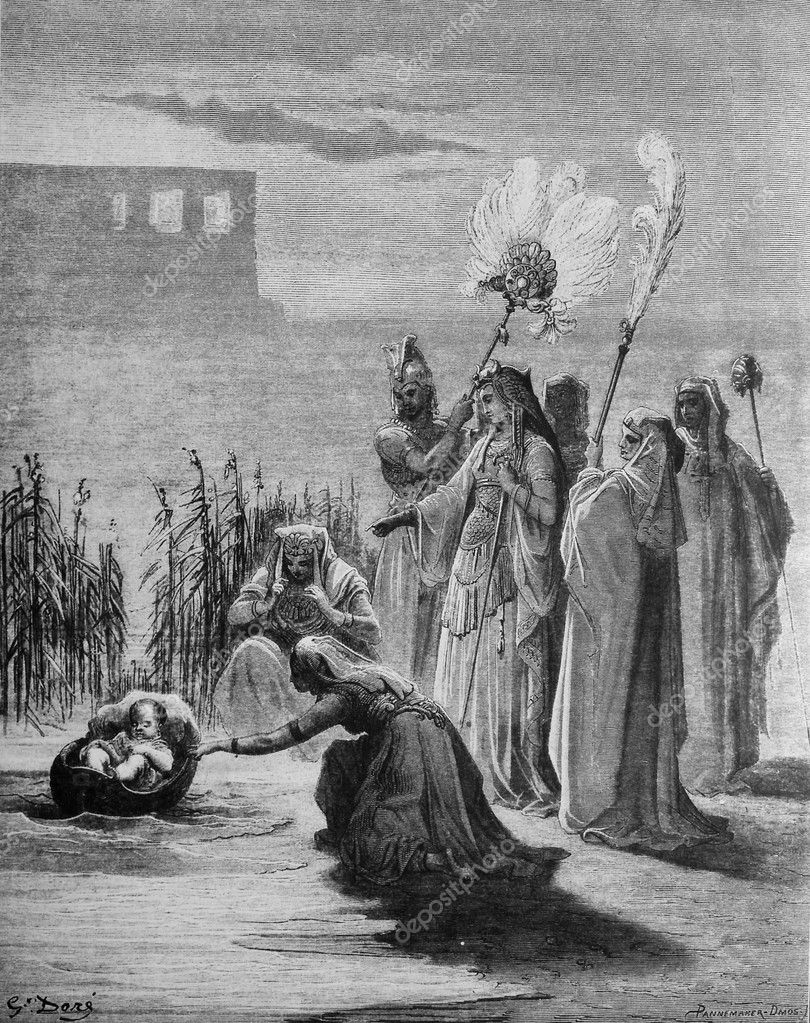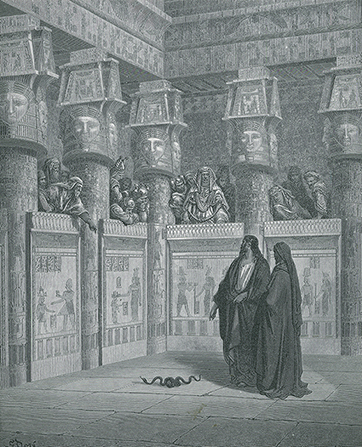 Engravings by Gustave Dore: The Finding of Moses: Moses and Aaron Appear Before Pharaoh
Yocheved and Amram HaLevi must have been exceptional individuals and parents. Their youngest child, Moses, was born at the worst of times when Pharaoh ordered the death of all male Jewish babies. Yocheved hid her newborn son for three months and then entrusted her daughter, Miriam, with ensuring his safety. The three haLevi children, Moses, Aaron and Miriam all rose to become leaders and teachers in their own right.
Together, under God's guidance, they led and nurtured an entire nation. The prophet Micah wrote, "For I brought you up out of the land of Egypt and redeemed you from the house of slavery. And I sent Moshe, Aharon and Miriam before you." (Micah 6:4). According to the prophet Micah the brothers and sister were sent together to fulfill the role of leading the Israelites.
When I read about Miriam's death in the Torah reading "Hukkat" I noticed how little attention was given to this great woman's passing. When I checked  to see how often the three leaders were mentioned in the Torah I discovered that Moses' name was recorded about 480 times. Aaron's name appears about 300 times and Miriam's name appears 10 times. It's not very surprising. Women are not generally given a high profile in Torah and bible narratives.
art by Laya Crust
Miriam is recognized as an important figure and is called a "prophet". To understand the strong family connection between Yocheved and Amram's three children we have to look at the hints given to us in text and then put the pieces together.
Miriam's baby brother Moses was born at the worst of times when Pharaoh ordered the death of all male Jewish babies. Yocheved hid her newborn son for three months and then sent Miriam to watch what would happen. Miriam intervened when he was found by Pharaoh's daughter and brilliantly offered to take the baby to a Jewish wet nurse.  The wet nurse was Moses' mother, Yocheved, and Moses stayed with her for three years until he was weaned. In those three years Moses was not only introduced to Jewish customs and sensibilities, he also interacted with his older brother and sister, Miriam and Aaron. That may explain why he showed no shock or surprise when decades later God told him that Aaron would be his mouthpiece to Pharaoh or why it seemed natural that Miriam was a leader at the Red Sea.
Miriam is often associated with water. Neither Moses nor anyone else were surprised when she led the women in song after crossing the Red Sea.
Miriam leading the Woman in Song- Golden Haggadah
In the Torah we read how Miriam and Aaron gossiped about Moses, criticizing his choice of wife. It was a natural thing for siblings to do – talk about their brother, his good points and his bad points. When Miriam was punished both brothers came to her defense. Moses begged that she be forgiven. God said He had punished her as any father would. Her affliction of tzaarat, and consequent seclusion in a tent sounds almost like a time out. Maybe this was God's style of "time out", knowing she needed some space to rest and reflect. One could well imagine that Miriam and Aaron were stressed. Miriam was the wise woman, and an example to the children of Israel, constantly expected to be empathetic and to guide the women. Her beloved people patiently waited for her to heal before they continued on their journey.
Miriam's Well, Dura Europos wall panel
At Miriam's death another link between the three leaders is revealed. Miriam's death is mentioned in five words. There isn't any mention of the people mourning her. Instead they become angry due to lack of water. God tells Moses and Aaron to speak to a rock, holding Moses' staff. Moses and Aaron gathered everyone together before the rock. Moses said, "Hear now, you rebels; are we to bring you water from this rock?" He lifted the staff and hit the rock twice. God punished the brothers for not following his instructions by not allowing them to enter the promised land. That is to say they would die before the children of Israel entered Canaan. Indeed, Aaron dies twelve verses after the rock was hit, (Exodus 20: 23 -29).
When Moses spoke to the children of Israel he called them "the rebels" using the word הַמֹּרִיִם.  That word, מֹּרִיִם has the same letters as Miriam. I suspect that Moses and Aaron were so overcome with grief at the loss of their sister Moses unconsciously chose that word.
A leader and a sister of leaders, Miriam died and was buried in Kadesh. It is fitting that she died in a place named "Holiness" because throughout her life that is what she exemplified and taught.
Have a Shabbat Shalom, and let us pray for the craziness in the world to become peace in the world.
Laya