art by Laya Crust
Va Yeishev: Bereshit (Genesis) 32:4 – 36
Haftarah:  The Book of Ovadiah
This week's Torah reading takes us on Yaakov's (Jacob's) journey through the country of Edom towards Bethlehem and Efrat. He was a successful man. He had huge flocks, 2 wives, 2 concubines, 11 sons and a daughter, yet he was nervous. He knew he had to travel through his brother's landholdings but did not want to face his twin because of  their unresolved history. Would Esau be angry at Yaakov? Did Esau still want to kill his brother?
The narrative begins with Yaakov sending messengers to his brother, announcing his approach. The report came back that Esau was coming to meet Yaakov, accompanied by 400 men.  Yaakov, frightened and anxious, sent his messengers ahead with many expensive gifts. He sent his family to the far side of the Jabok River for safety and he himself slept on the closer side of the river, possibly to be on the alert for any attack.
A man came and wrestled with him through the night. Finally at dawn the stranger told Yaakov to let him go. Yaakov demanded that the man give him a blessing and the blessing came in the guise of a new name- Yisrael, "because you have striven with beings Divine and human" (כּי שׂרית עם אלהים ועם אנשׁים).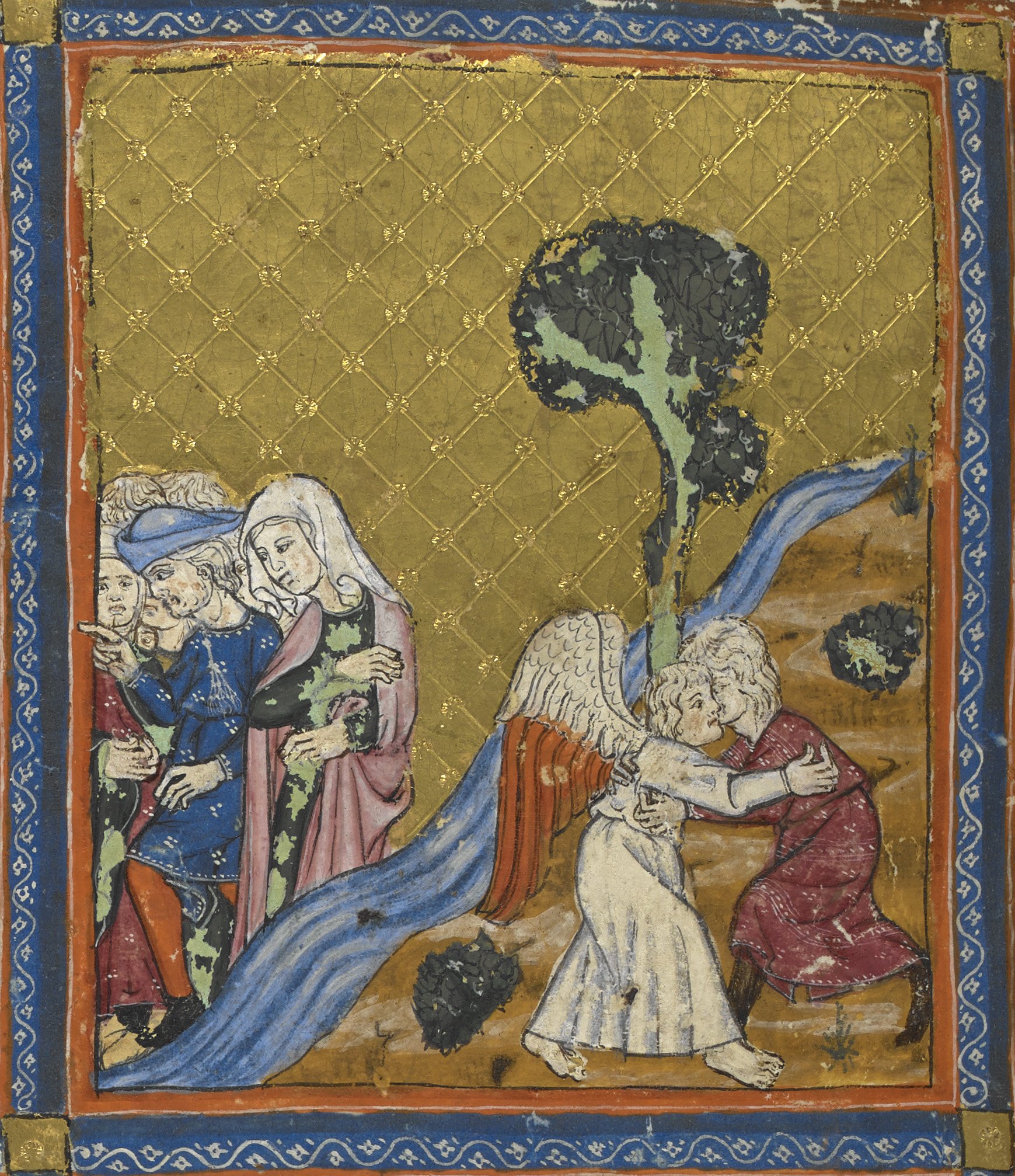 Golden Haggadah, c. 1320
Who was the man Yaakov fought with? An angel sent by Gd? An adversarial angel representing Esau? Or was it an inner battle that Yaakov was struggling within himself? At the end of the battle Yaakov had a new name and an injury that stayed with him the rest of his life.
Yaakov's name has many meanings. It can mean follow, heel, or deceive. When he was born Yaakov followed his brother into the world, holding on to Esau's heel. As they grew up he deceived his brother and his father, and in turn was deceived by his father-in-law.
He left Canaan to avoid confrontation with Esau and to seek a wife. Many years later he left Lavan's estate in the night, also hoping to avoid confrontation. He may have been a successful man in terms of his career but he was afraid to face the consequences of his actions.
Yaakov couldn't avoid wrestling with the angel and he refused to give up or give in to the aggressor. He was given a name that represented his strength and position.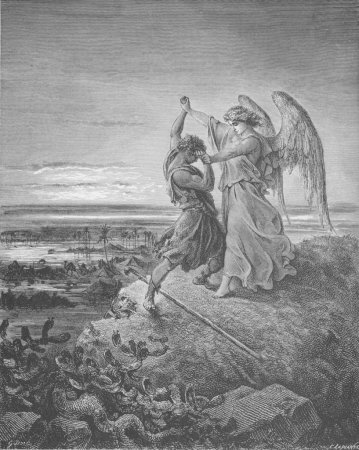 by Gustave Dore, 1855
The night of struggle heralded a new beginning. He faced himself and the enemy across from him. That incident strengthened him in his role as leader of a nation. He could carry on and deal with whatever life put in front of him. The struggle with the immortal being took place between sending a message to Esau and actually facing him. Maybe the fight itself influenced Yaakov's interaction with Esau.
These days we are facing anti-Semitic attacks- verbal and physical, hurtful and deadly, overt and covert, on a frightening level. We are witnessing anti-Semitism from the British elections to UN resolutions, to terrorist attacks in kosher grocery stores and in synagogues, and unconscionable displays of hatred against Israel and Jews on campuses. Like Yaakov we have to face our fears rather than run away from them. Strength as a people and a nation is the only way to combat the hatred.
Like Yaakov let's struggle with the adversaries and stand firm for what is right. May we see peace soon,
Sabbat Shalom,
Laya